Project: New bridge
Our delivery: 2007
290 t of steel structures
1690 m steel wire cores
Tight timetable and challenging installation
Ypsilon is a cable stayed pedestrian bridge which crosses the Drammenselvan river in Norway.
Ruukki delivered 290 t of steel structures, 1,680 m steel wire cores and was responsible for prefabrication and installation of the tower and the deck for the bridge. The construction was completed in November 2007. The project was implemented by the Sandnessjøen unit.
Ruukki's prefabricated elements made the tight timetable and challenging installation of the bridge over the river possible. The close cooperation between construction engineers and the construction site helped to accomplish the special design and complexity of the structures.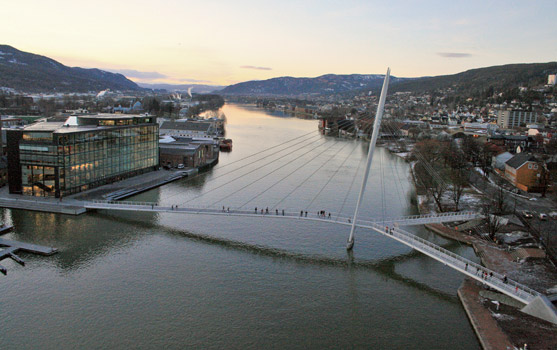 The references shown are only a small part of the projects we have done, and the most recent ones are yet to come.
Are you interested to know more, please contact us!