Project: New building
Our delivery: 2011
Partners:
Developer: Real estate company Kirkkonummen kunnantalo/ Kirkkonummi Town Hall
Main Contractor: Peab Oy
Architectural Designer: Arkkitehtitoimisto Sigge Oy
Steel frame delivery
The construction of the new Kirkkonummi Town Hall, located centrally in Kirkkonummi, will be completed in late 2011. In the design phase, attention was paid to the requirements of physically disabled visitors and other special groups, and also to current energy efficiency aspects. A pedestrian bridge will connect the building to the adjacent departments of community technology.
Ruukki delivered the steel frame for the project.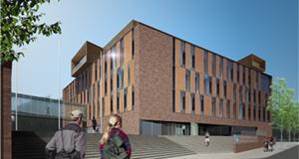 The references shown are only a small part of the projects we have done, and the most recent ones are yet to come.
Are you interested to know more, please contact us!