Pentik logistics warehouse
Project: New building
Our delivery: 2006
Design and installation of the steel frame
Design and installation of load-bearing profiles
Delivery of wall structures, roof, doors, loading ramps and windows
For the later enlargement of the warehouse
Delivery of steel frame
Design and installation of wall structures, windows, roof and rainwater systems
Wide variety of products and services
Our broad expertise and experience in the structural design, manufacture and installation of one-storey production facilities created a great starting point for the logistics hall project.
Ruukki delivered a wide variety of products and services to the first building phase of the logistics warehouse. The delivery included the design and installation of the steel frame and load-bearing profiles, as well as the delivery of wall structures, roof, doors, loading ramps and windows.
For the later enlargement of this warehouse, Ruukki delivered the steel frame, and designed and installed wall structures, windows, the roof and rainwater systems. After the enlargement, the total extent of the warehouse was 6,000 m² and its capacity is 60,000 m³.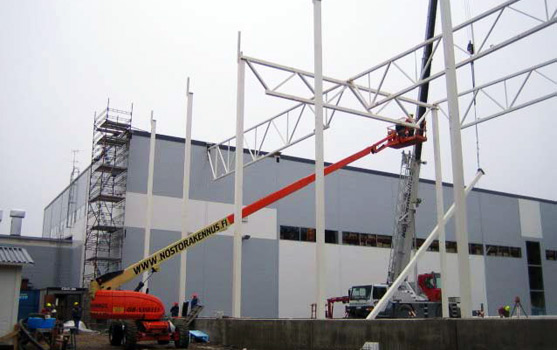 The references shown are only a small part of the projects we have done, and the most recent ones are yet to come.
Are you interested to know more, please contact us!