Kodin Terra Store Rovaniemi
Project: New building
Our delivery: 2010
350-ton steel frame
15,000 m²  of load-bearing profile sheets for roof
Structural design, fire protection, manufacture and installation
Partners:
Developer: Arina, S Group
Main Contractor: Skanska Talonrakennus Oy, Lappi/Lapland
Architect: Arkkitehtuuritoimisto Seppo Valjus Oy
Structural Design: Insinööritoimisto Juhani Pyykkönen Ky
Kodin Terra is a Finnish store chain specializing in home decor and furnishings. The stores offer tips and solutions to gardening, interior design, and building.
Ruukki has previously contributed to the construction of Finland's first Kodin Terra store, located in the city of Lahti. The company has also delivered structures for the Tuusula and Pori stores, completed in 2008.
One of Ruukki's strengths is the ability to deliver all-inclusive product systems. That enables us to supply cost-efficient solutions of frames and façades for Kodin Terra stores.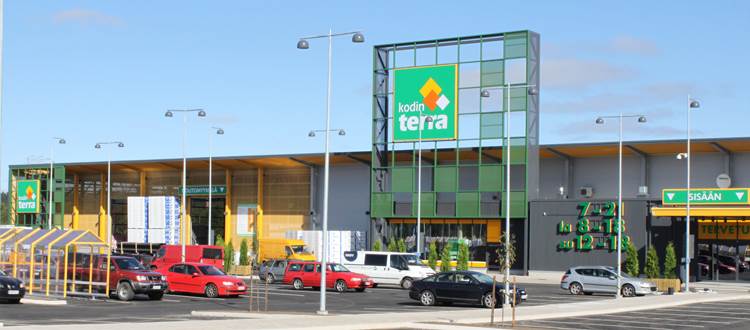 The references shown are only a small part of the projects we have done, and the most recent ones are yet to come.
Are you interested to know more, please contact us!