Palokankeskus III Shopping Center, Phase 2
Project: New building
Our delivery: 2010
700-ton steel frame with installation
6,600 m² of sandwich panels
25,000 m² of load-bearing profiled sheets
Dry installation of hollow-core slabs
Fire protection of steel frame according to VTT certificate
Partners:
Developer: Varma Mutual Pension Insurance Company
Main Contractor: Skanska Talonrakennus Oy, Central Finland
Architectural Designer: Arkkitehtuuritoimisto Martti Vähäniitty Oy
Structural Designer: Finmacon Oy Central Finland
Comprehensive total delivery
Palokankeskus III is one of the most significant shopping center ventures in the Jyväskylä region. When the third phase is completed, the complete surface area of the mall will approach 80,000 square meters.
Ruukki's part of the project consisted of a steel frame, load-bearing profiled sheets with installation, and dry installation of hollow-core slabs. Ruukki also supplied sandwich panels for the exterior walls, and steel frames and profiled sheets for the outdoor sheds. The steel frame was fire protected according to Ruukki's certificate from the VTT Technical Research Centre of Finland. The protection method utilizes the building's fire sprinkler system, helping the customer avoid extra expenses related to fire protection.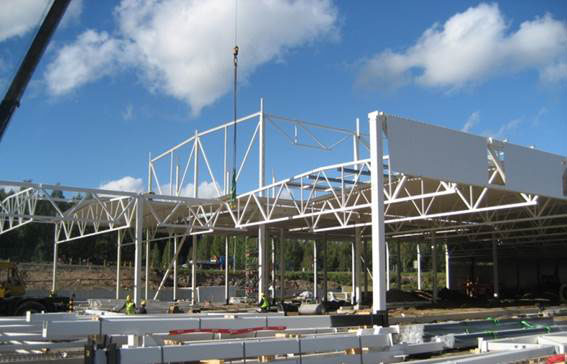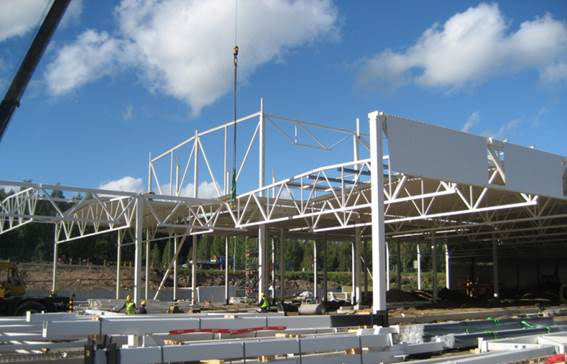 The references shown are only a small part of the projects we have done, and the most recent ones are yet to come.
Are you interested to know more, please contact us!