Uusikaarlepyy Kirkkosilta Bridge
Project: New bridge
Normek manufactured and installed the steel beams of Uusikaarlepyy Kirkkosilta bridge. The beams were manufactured at our Oulu plant and they weight around 133 tons. The bridge was transported to the site in three 8,1 meters wide blocks. Manufacturing and installation schedules were tight but we made it without problems by the help of good planning. Co-operation with Destia Oy has worked extremely well.
The new bridge will replace the old obsolete structure and will be operational in autumn 2019.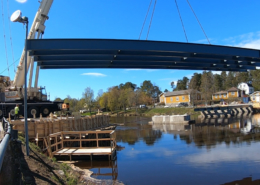 The references shown are only a small part of the projects we have done, and the most recent ones are yet to come.
Are you interested to know more, please contact us!